Whether it's 80's shell suits, 90's low-rise jeans or 00's velour tracksuits, many will be able to name at least one fashion purchase that has sent them spiralling into a pit of regret or sparked fond nostalgia.
As popularity for the Y2K trend of low-rise jeans begins to gain newfound momentum with Gen Z – as illustrated by a 27% rise in UK online searches for the controversial fashion item in the past year – a new study has revealed which fashion fads and phases have Brits spiralling into a pit of regret.
To find out which trends are the biggest offenders, a new study by Freemans revealed the nation's biggest fashion regrets over the past four decades by using sentiment analysis of 150,000 fashion social media threads over the last 12 months. The study has also analysed UK Google search volumes for each item as well as TikTok views over the last three years.
The study, which analysed eight years of news articles on specific clothing items as well as analysing the sentiment of 150,000 fashion threads on social media, has revealed once and for all which fashion choices Brits wish they'd not indulged in, as well as the items of clothing that spark the most fond nostalgia.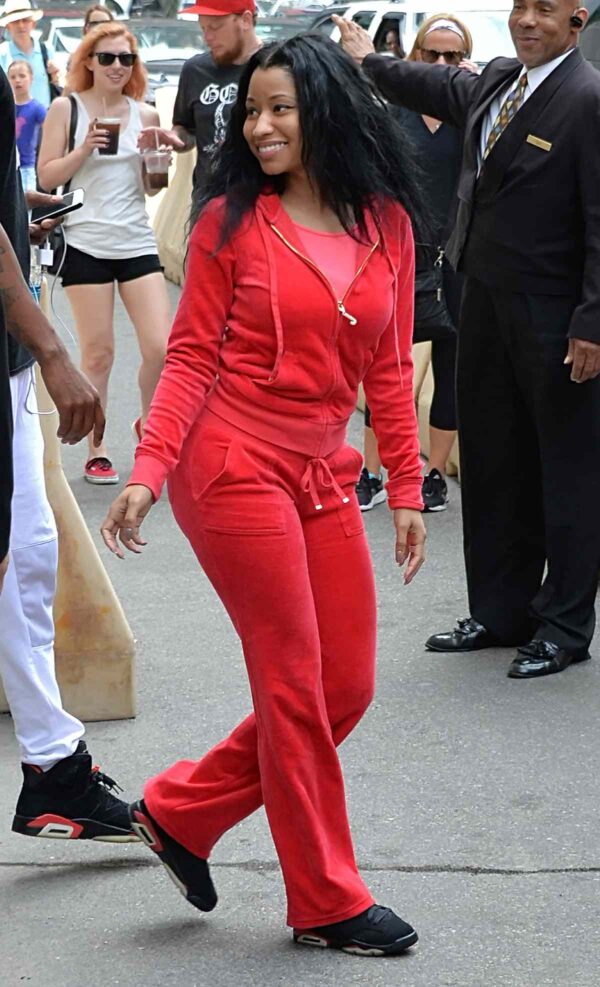 The clothing and accessories Brits regret the most
Brits biggest fashion regrets of all time
Rank
Fashion item or accessory
Decade
Average monthly UK Google searches (Jan 2020 – Dec 2022)
TikTok views over the last 3 years
Regret score (out of 100)
1
Low-rise jeans
1990's
14,800
31,000,000
82
2
Sweatbands
1980's
9,900
148,000
55
3
Aztec print clothing
2000's
750
585,000
46
4
Shell suit
1980's
18,100
565,000
39
5
Studded belt
1990's
1,900
527,000
38
6
Cold shoulder tops
2010's
14,500
0
33
7
Whale tail
1990's
5,400
6,000,000
32
8

Parachute pants
1980's
14,000
31,000,000
31
9
Coloured sunglasses
1990's
2,580
253
31
10
Boob tube
1990's
18,700
5,009,000
30
11
Velour tracksuit
2000's
14,800
3,000,000
29
With the likes of celebrity trend-setters like Zendaya, Gigi Hadid and Kylie Jenner being snapped wearing low-rise jeans, it's no surprise they're gaining popularity again, but this little denim number which emerged in the late 90's and sits below the hip are the number one most regretted style choice of Brits.
The 80's icon that is the humble sweatband has landed itself in second place when it comes to the fashion choices that fill Brits with a sinking feeling of regret. Made popular by the likes of Jane Fonda and Olivia Newton John, this trend has a lot to answer for according to those who lived through it.
Aztec print clothing which dominated the 2010's, particularly the year of 2012 and one that many Millennials will never forget, takes third place for sparking the most regret among Brits. The print was frequently sported by the likes of noughties tastemakers like American actress Ashley Tisdale and The Hills reality TV star, Lauren Conrad.
The clothing and accessories Brits feel the most nostalgia for
The most nostalgic trends
Rank
Fashion item or accessory
Decade
Average monthly UK Google searches (Jan 2020 – Dec 2022)
TikTok views over the last 3 years
Nostalgia score out of 100
1
Leg warmers
1980's
14,800
16,000,000
81
2
Belly chains
2000's
9,000
2,000,000
66
3
Board shorts
1990's
6,600
332,000
64
4
Crop shirts
1990's
57,600
75,000,000
62
5
Tube tops
1990's
18,700
5,009,000
62
6
Cold shoulder tops
2010's
14,500
0
62
7
Tank tops
2010's
33,100
18,000,000
61
8
Peplum top
2000's
23,400
914,000
60
9
Velour tracksuits
2000's
14,800
3,000,000
60
10
Suspenders
1980's
58,600
9,000,000
58
11
Plaid skirts
1990's
6,600
3,000,000
56
Leg warmers incite the most nostalgia among Brits and with the popularity of Greta Gerwig's Barbie movie topping $1 billion in global box office sales, it's no surprise. 'Barbie leg warmers' have accumulated 13.2 million views on TikTok, showing this trend has staying power. Designed for dancers, they gained momentum during the 80's athleisure craze through dance movies 'Fame' and 'Flashdance'.
Belly chains, which dominated the early 00's, take the second-place spot for evoking the most nostalgia. The jewellery piece which sits around the stomach and is usually paired with a bikini made waves from pop artist Shakira's "Whenever, Wherever" 2001 music video. More recently, Kim Kardashian, Rita Ora and Kourtney Kardashian have been snapped wearing the midriff accessory, reigniting its popularity for a new generation.
The 90's classic of board shorts take third place as the most nostalgic trend. The style, also known as 'dad shorts', was born in the 50's and resurrected in the 90's due to the skater style movement. The shorts have recently been revived by the likes of movie and music legends Ryan Reynolds, Daniel Craig and David Guetta.
Leanda Trethewey, director of marketing at Freemans said: "Part of the fun of fashion and trends is getting to experiment with your style, whether you want to stick to reliable classics or go bold and delve into the archives of previous generations and revive retired trends.
"Equally, sharing fashions across the generations can see pieces you might have resigned to the back of your wardrobe, brought back to life by children and grandchildren, something that we're seeing quite frequently with famous fashion icons and their children.
"We hope our study has highlighted that your fashion regret might well be someone else's fashion treasure as well as providing a trip down memory lane and a serotonin boost of nostalgia.
"For anyone looking to refresh their wardrobe or create a seasonal capsule collection, our extensive range of own brand and branded clothing collections have you covered."