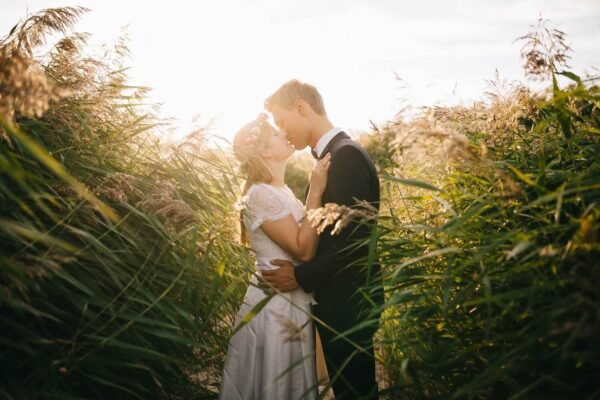 Love is in the air, and you've decided to take the leap into the world of lifelong commitment. Congratulations! As you prepare to pop the question or celebrate your engagement, why not infuse your special moment with a touch of eco-consciousness?
In this helpful guide, we'll unveil a range of eco-friendly engagement ideas that are perfect for the modern couple in the UK, ensuring that your journey toward marriage is not only stylish but also sustainable.
1. The Sustainable Proposal Location
Begin your engagement journey by selecting an eco-friendly proposal location. Consider beautiful natural settings such as parks, forests, or coastal cliffs. Not only will these locales provide a breathtaking backdrop for your proposal, but they also support the preservation of local ecosystems.
2. Ethical Engagement Rings
Choosing engagement rings is a pivotal moment. Look for ethical and sustainable options, such as lab-grown diamonds or moissanite, which have a smaller environmental footprint than traditional mined diamonds. 
You can find some truly eye-catching – and entirely ethical – engagement rings in the UK thanks to the fine work of Ingle and Rhode.
Whether you are searching for a conflict-free sapphire engagement ring or an entirely ethically sourced emerald engagement ring made with recycled gold, you're sure to find what you're looking for in Ingle and Rhode's collection.
3. Digital Invitations And Announcements
Reduce paper waste by sending digital engagement party invitations and announcements. There are countless online platforms that allow you to design and send elegant e-invitations, sparing trees and reducing the environmental impact of postage.
4. Sustainable Engagement Parties
When planning your engagement party, make sustainability a priority. Host your celebration at an eco-friendly venue that follows green practices, and consider local and organic catering options. Serve drinks in reusable glassware and use biodegradable or reusable tableware to minimise waste.
5. Zero-Waste Engagement Parties
For the eco-conscious couple, take it a step further with a zero-waste engagement party. Implement composting and recycling stations, encourage guests to bring their own reusable containers, and choose sustainable decor like cloth napkins and real tableware. This way, you can celebrate guilt-free, knowing that your party has minimal environmental impact.
6. Eco-Friendly Engagement Photoshoots
Capture your love in a natural setting with an eco-friendly engagement photoshoot. Choose a location that resonates with your values, whether it's a local park, a farm, or a beach. Find a photographer who embraces natural lighting and candid shots, preserving your connection with each other and the environment.
7. Ethical Engagement Gifts
Celebrate your engagement with meaningful, eco-conscious gifts. Consider gifts made from sustainable materials, like bamboo kitchenware or organic cotton linens. Alternatively, request charitable donations in your name to support a cause you're passionate about.
8. DIY Engagement Announcements
Get creative with your engagement announcements. Craft homemade cards using recycled materials or design a digital announcement featuring your love story. Personal touches like these not only reduce waste but also add a unique charm to your engagement.
9. Sustainable Engagement Rings
Preserve your engagement rings in an eco-friendly way. Look for ring boxes made from sustainable wood or upcycled materials. After the proposal, keep your rings safe in these stylish, earth-conscious containers.
10. Ethical Engagement Party Decor
Adorn your engagement party with decor that respects the planet. Embrace upcycled or vintage decorations, which add character and sustainability to your celebration. Use LED lighting to save energy and opt for locally sourced, seasonal flowers for your table centrepieces.
11. Green Engagement Party Menus
Plan an engagement party menu that delights the senses and supports sustainability. Opt for vegetarian or vegan dishes that highlight locally sourced, organic ingredients. Discuss your preferences with the caterer to ensure minimal food waste and eco-friendly practices.
12. Charitable Engagement Registries
If you're considering a registry, explore charitable options. Many online platforms allow you to create registries that direct guests to make donations to your chosen charities or causes. It's a meaningful way to share your happiness while giving back.
13. Sustainable Engagement Photos Albums
When creating a photo album of your engagement photos, choose a sustainably made album that will last for generations. Look for options crafted from recycled materials, reclaimed wood, or eco-friendly leather alternatives.
14. Share Your Eco-Friendly Journey
As you embark on your eco-friendly engagement journey, share your experiences with your loved ones. Use your social media platforms or create a dedicated blog to document your choices, challenges, and triumphs. You might inspire other couples to embrace sustainability in their own engagement and wedding plans.
15. Commit To A Sustainable Future
Your engagement is not only a celebration of your love but also a commitment to a shared future. Make sustainability a part of that future, whether it's through eco-conscious travel, energy-efficient living, or continued support for causes you believe in.
16. Carbon-Neutral Proposals
Consider making your engagement proposal carbon-neutral by calculating the emissions associated with your celebration and offsetting them through carbon offset programs. This environmentally responsible gesture adds a layer of sustainability to your special moment.
17. Sustainable Engagement Party Themes
Explore eco-friendly engagement party themes, such as a "Green Garden Party" featuring potted plant centrepieces and botanical decor or a "Local Harvest Celebration" with farm-to-table cuisine sourced from nearby growers. Themed parties allow you to integrate sustainability into every aspect of your celebration.
18. Eco-Conscious Engagement Party Favours
Show your appreciation to engagement party guests with eco-conscious party favours. Consider giving away reusable items like stainless steel straws, tote bags, or bamboo utensil sets, all of which promote sustainability in everyday life.
19. Conscious Engagement Party Entertainment
Entertain your guests with live music or performances from local artists, supporting talent in your community. You can also incorporate sustainability into entertainment choices by opting for acoustic music or unplugged performances, reducing the need for electronic amplification.
20. Support Local Artisans
When selecting engagement party decorations and favours, support local artisans and craftsmen. Handmade, locally sourced items not only add a unique touch but also promote the livelihoods of talented individuals within your community.
21. Eco-Friendly Engagement Party Games
Incorporate eco-consciousness into your engagement party activities. Consider outdoor games like cornhole or frisbee, which require no electricity or electronic components. These low-impact games offer entertainment that aligns with your sustainability goals.
22. Sustainable Engagement Party Ideas That Offer An Immersive Eco-Friendly Experience
Invite guests to participate in eco-friendly activities during the engagement party, such as a group cleanup or a potted plant planting ceremony. These hands-on experiences create memorable moments while fostering a sense of environmental responsibility.
23. A Sustainable Engagement = A Sustainable Marriage
Remind yourselves and your guests that your eco-friendly engagement is just the beginning of a journey toward a sustainable marriage. Encourage friends and family to continue supporting ethical and sustainable choices in their daily lives, fostering a ripple effect of positive change.
Final Thoughts
Your engagement will hopefully serve as the magical prelude to a lifetime of love and partnership.
By infusing eco-friendly practices into this special time, you can set the tone for a future built on shared values of sustainability and responsibility. So, embrace these eco-friendly engagement ideas, and let your love story be not only stylish but also a force for positive change in the world.
Here's to your eco-conscious journey toward marriage!